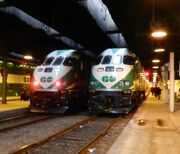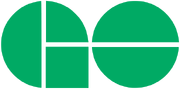 Metrolinx, operating as GO Transit, is a commuter railroad serving the Greater Toronto and Hamilton Area. Canada's first such system, it was started by the Provincial government of Ontario in 1967, as attempt to fix problems imposed by rapid urban growth.
GO operates 7 commuter rail lines and one intercity train, stretching from Toronto to the regions of Hamilton, Halton, Guelph, Kitchener/Waterloo, Peel, York, Simcoe, and Durham. The Lakeshore line is the backbone of the system.
GO carries 251,000 riders a day, and 65.5 million each year.
GO Trains utilize a 575V AC HEP system which is incompatible with all other HEP systems in North America.
In the 1960s, the Greater Toronto Area was choked to its limits by urban growth. Commuters from Toronto were now rapidly moving towards the suburbs outside the Megacity. Realizing the problems this would create on both the highways and the subway system in Toronto, the Government of Ontario quickly set up a commuter service, initially along the shores of Lake Ontario, stretching from Oakville in Halton, to Dunbarton (Pickering) in Durham.
The service was initially a two-year test. Due to this reason the earliest equipment ordered were based on pre-existing designs. The decision was made because as the service was a test at the time, it was easier to sell off equipment already based on existing designs, than it would be for custom designs. A notable example would be the GP40TC. It was essentially a GP40 built on the frame of an SD40, equipped with an HEP generator. Fortunately, GO passed its test period with highly successful results.
The service grows
Edit
Following the success of its Lakeshore lines, the other lines were quickly established. Georgetown (now known as the Kitchener line) was inroduced in 1974, and the Richmond Hill line was opened in 1978. Milton was established in 1981.
Following severe cuts made to VIA Rail Canada in 1982, GO Transit took over its Barrie and Stouffville runs on September 7, 1982.
It was during this time the distinctive BiLevel cars, along with the custom designed F59PH, appeared in service.
The GO ALRT was originally proposed as a intermediate rail line, continuing from Pickering and terminating in Oshawa. This was soon cancelled by the government in favour of a conventional right-of-way along Highway 401 to Oshawa's VIA station. The GO ALRT would have been operated with Scarborough RT-style vehicles, the UTDC ICTS Mark I.
Service cuts, 1994
Edit
The recession of the 1990s hit GO Transit hard; ridership shrank quickly and most train routes were shortened. Despite this, GO kept expanding its services to include Burlington.
Recent growth
Edit
All-week service finally reached Oshawa in 2006, and the Stouffville line was extended to Lincolnville in 2008. The Bradford line (formerly VIA Rail's Toronto-Barrie train) finally got extended back to Barrie.
2009 saw the introduction of a seasonal train service to Niagara Falls, complementing the existing Amtrak service and partially replacing VIA service.
On December 19, 2011, GO Transit extended service on its Georgetown line to Kitchener, partially replacing VIA service.
2013 saw the frequencies of trains on the Lakeshore corridor increased from one train per hour during off peak hours, to one train per half hour.
The James Street North GO Station is scheduled to open in 2015, for improved service to Hamilton.
There are plans to electrify the Lakeshore and Kitchener (Georgetown) lines to reduce emissions.
An extension of the Stouffville line to Uxbridge is being considered, as well as the introduction of two-way, all day service from Union to Mount Joy on that line.
An extension of the Richmond Hill line to Aurora is being built.
Niagara Region is pushing for the conversion of the Niagara Falls-Toronto train to commuter train status.
On April 15, 2014, Metrolinx announced plans for a high-speed rail line running from London to Toronto via Kitchener and Pearson Airport. This is to be completed within the next ten years. [1]

The first step would enable all-day, two-way service on the Kitchener line, then the line would be electrified, and then a high speed rail system will be built.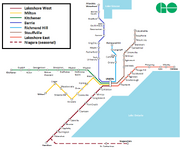 All trains serve Toronto Union Station. Trains bolded and italicized are not commuter trains.
Lakeshore Corridor: an east-west line operating between Oshawa in the east and Hamilton to the west, via Union Station. During rush hours the line is split in half at Union, becoming the Lakeshore East/West trains. This is the only line to operate 24/7 on the network.
Milton Corridor: A line running from Union Station to Milton, northwest of Toronto. Rush Hours only.
Richmond Hill Corridor: A line running north from Union to Richmond Hill. Rush hours only. Only route to remain unchanged since its opening.
Georgetown/Kitchener/Airport Corridor: A corridor serving the Kitchener line and in the future, the Metrolinx Union Pearson Express. The Kitchener line runs during rush hours only, while the planned Airport line will have 15 minute headways 24/7.
Barrie Corridor: A north-south line running between Union and Barrie's Waterfront. Runs during rush hours, and during weekends/holidays during the summer.
Stouffville Corridor: A line running from Union to Stouffville to the northeast. Rush Hours only.
The Greenbelt Express: An intercity passenger train running from Union Station to Niagara Falls' VIA Rail Station. Operates on Fridays, weekends, and holidays during the summertime. Four per day. Similar in fashion to VIA Rail although retains the simple crew layout (see below)
Operation
Edit
Unlike most commuter railroads and intercity railroads, GO Transit operates on a proof-of-payment system. Passengers pay their fare (or tap their card) before getting on board the train, and are subject to random fare inspections on board. Passengers with a card must "tap off" at their destination, unless they have "Default Trip" set up.
GO Trains operate with 3 crew members; the locomotive crew (engineer and train conductor) and a Customer Service Ambassador situated in Car 5 (the accessible coach). This is unlike most passenger railroads, where trains normally have a conductor in every car.
The majority of GO Trains are 12 cars long, although lesser lines may have 10 car trains. The Niagara Falls trains are operated with 8 cars.
When viewed from Union Station, with the exception of the double ended F59PH trains, all trains have the locomotive facing eastward. A train with the locomotive facing west is extremely rare.
Locomotive and Generator Fleet
Edit
GO Transit currently operates a fleet comprised entirely of MPI MP40PH-3C locomotives.
MPI MP40PH-3C, numbered 600-666. First delivery in 2008.

Delivered with EMD 710 engine. One is currently being refitted with a Cummins engine system.
657-666 are Tier 4 compliant.
575V AC, 900kW HEP system

A set of Cummins powered locomotives are on order for 2015-16.
GO has previously operated a number of various locomotives. Unlike other operators (save for Translink, VIA Rail and Amtrak), GO prefers a fleet with similar specifications, in order to boost efficiency and lower maintenance costs. GO has ordered 3000hp locomotives since inception, and it wasn't until 1988 that they stepped away from the EMD 645 engine, and it wasn't until 2008 that they increased power on its trains.
All locomotives (save for the non-HEP GP40-2s) have 575 V AC HEP systems.
GMD GP40TC, numbered 500-507, classed GCE-430a. Retired and sold to Amtrak by 1990.
GMD GP40-2(W), classed GCE-430b/c/d. GP40-2W numbered 700-710, standard units numbered 720-726. Delivered in 1973-75. All retired by the early 90s and some sold to CN.
GMD F40PH, numbered 510-515, classed GCE-430e. Delivered in 1978. All retired by early 90s and sold to Amtrak.
Auxiliary Power units, rebuilt from former ONR FP7As and F7Bs. F7Bs numbered 800-802, FP7s numbered 900-911. Were frequently used with GP40-2(W) units and F40PHs. All retired by early 90s. One sold to Ontario Northland. FP7 converted units could be used as NPCUs.
GMD F59PH, numbered 520-568, classed GCE-430g/h/k/m. Delivered in 1988 and all retired in 2013. Most ended up in lease fleets or other commuter railways.
Incidents
Edit
GO Transit has only had two major incidents over its 47 years of operation, making GO Transit one of the safest railroads in North America.
On December 12, 1975, a westbound Lakeshore GO train collided with a TTC bus at the intersection/RR crossing of Midland and St. Clair. Nine people on the bus were killed. It is both GO and the TTC's worst incident in terms of lives lost.
On November 17, 1997, an empty train collided with another train (carrying 800 passengers) at Union Station. Both trains were travelling at low speed. There were no fatalities.
Ad blocker interference detected!
Wikia is a free-to-use site that makes money from advertising. We have a modified experience for viewers using ad blockers

Wikia is not accessible if you've made further modifications. Remove the custom ad blocker rule(s) and the page will load as expected.