Great Western No. 3440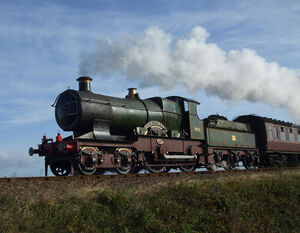 GWR Number 3440 "City of Truro"
Details

Years built

4-1903

Builder(s)

Swindon Works (GWR), Swindon, Wiltshire

Number Produced

Years in Operation

1903-1931

Fleet Numbers

3440, renumbered 3717 in 1912

4-4-0

Number Preserved

Unknown

Number Scrapped

Unknown

Dimensions
(l × w × h)

Unknown

Gauge

4 ft 8 1⁄2 in (1,435 mm)
V - E - T - D
GWR "City" Class No. 3440 City Of Truro is a Great Western Railway (GWR) 3700 (or 'City') Class 4-4-0 steam locomotive, based on the 'Atbara' class designed by William Dean, and built at Swindon Works in 1903 under then CME George Jackson Churchward. (It was given slight rebuilds in 1911 and 1915, and renumbered 3717 in 1912).
The "City of Truro" also developed the official name for the type of GWR steam locomotive (similar to the Iron Duke Class), as well as being one of the very first major, mass-produced, types of steam locomotives that was standard-gauge as opposed to broad or wide-gauge.
It is also one of the contenders for the first steam locomotive to travel in excess of 100 miles per hour (160.9 km/h). Its maximum speed has been the subject of much debate over the years.
The locomotive is now preserved, and operated various steam excursions around the country, but is now on static display at its true home - its birthplace - Swindon.
In fiction
Edit
City of Truro appears in the Railway Series book "Duck and the Diesel Engine". Here, he visited the Island of Sodor, and isn't shown with a face, but still has the ability to talk. Because of their Great Western heritage, he and Duck became friends. Gordon, however, got jealous of his speed record, and tried to break it. Doing this, however, results in Gordon's dome blowing off. His visit made Duck proud to be a Great Western engine. He also appears in the television series, but has no lines, and is not referred to be name (except the banner that rests atop Tidmouth Sheds). He is called the "famous visitor" in the TV series adaption. An ERTL model of him was produced, but was later discontinued. Along with this City of Truro made appearances in Thomas and Friends magazine stories and in the 1980 Railway Series annual.
City of Truro also appeared in the 1957-8 serial "Will o'the Whistle" in the D.C.Thomson comic "The Wizard". In this comic, it was home to resistant fighters after the Kushanti invasion of Britain.
New York Central No. 999 is also one of the first ever locomotives to travel at a speed of 100 mph.
City of Truro was painted in BR Black (lined on one side and plain on the other), during a trial after its restoration in 1985.
It had three periods of active preservation (1957-61), (1985-1992), (2004-2013); during two of which she ran on the main line.