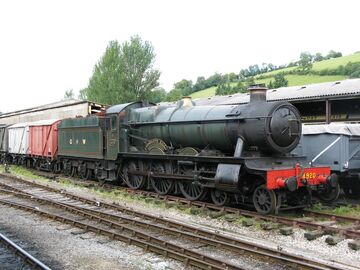 The GWR; Great Western Railway; 4900 Class or "Hall Class" is a type of rebuilt 4-6-0 steam locomotive designed by Charles Collett, for 'Mixed Traffic' applications.
The locomotive was built from 1928 to 1943. The further "Modified Hall Class" locomotives were built until 1950.
The prototype was the No. 4900 Saint Martin, which was a rebuild of No. 2925 Saint Martin, which was a GWR Saint Class locomotive. No. 4900 rolled out of Swindon Works in 1924.
Following three years of testing and improving, Collett placed an order with the Swindon Works, for the Hall Class. The first locomotives entered service in 1928. Though the Hall Class locomotives differ even to their prototype, the 4900 Class can be seen as a continuation of the 2900 "Saint" Class. There were about 259 "Halls" made; they were withdrawn from service from 1959 - 1966. All but 11 were scrapped.
The Hall Class steam locomotives are actually rebuilt from numerous types of Great Western Railway standard (tender) steam locomotives. Such as the "City" Class.
The "Hogwarts Express" steam locomotive from the Harry Potter franchise is based on a GWR "Hall" Class.
GWR #5972 "Olton Hall"
is an example of a preserved and operational "Hall" Class steam locomotive, which was used for the "Hogwarts Express" steam locomotive. It is now currently preserved at the National Railway Museum in York, England.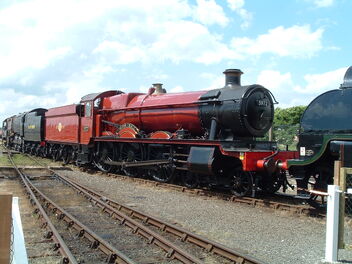 References
Edit