GWR 5700 Class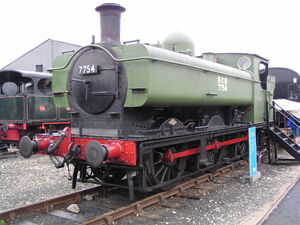 '
Details

Years built

1929-1950

Builder(s)

Charles Collett
Swindon Works (585) Swindon, Wiltshire; Armstrong Whitworth (25) Elswick, Newcastle upon Tyne; W. G. Bagnall (100)Stafford, Staffordshire; Beyer, Peacock & Co. (25) Gorton, Manchester; Kerr Stuart (25) Stoke-on-Trent, Staffordshire; North British Locomotive (75) Glasgow; Yorkshire Engine Co. (25) Sheffield, South Yorkshire

Number Produced

863

Years in Operation

1929-1966

Fleet Numbers

Unknown

0-6-0PT

Number Preserved

16

Number Scrapped

847

Dimensions
(l × w × h)

31 ft 2 in (9.50 m)
8 ft 6 in (2.59 m)
12 ft 3 in (3.73 m)

Gauge

4' 8 1/2"
V - E - T - D
A GWR (Great Western Railway) 57xx or 5700 is a type of 0-6-0T British pannier tank, steam locomotive built during the 1950's.
16 are preserved while the rest of the locomotives were scrapped.
They were primarily used on the many branchlines that were part of the GWR's railway system, and had very few to almost any flaws, and being proved to be reliable. Hence, them having excellent braking, reliable speed and tractive effort, as well as consuming low amounts of coal rather than consuming such large amounts like how some of the GWR's lesser-known and less-successful tank engines were before the success and design of the 57xx.
They survived into the formation of British Railways, and were slowly replaced by numerous types of shunting (or switching) diesel locomotives by the mid-1950's, as well as being scrapped, sold, or retired to various shortlines and industries. They were all retired by 1966, and the remaining survivors have since remained preserved.
They are also very unique in design and style, to whom their "pannier" style of watertanks were installed on the sides fully inclosing the locomotive, rather than partially like earlier GWR tank engines. (Such as the 14xx or 1400.)
The Metropolitan Railway also employed some of the pannier tanks for the goods duties on the spoil trains. The spoil trains were carried out to the now closed Croxley Tip, on the far end of the Metropolitan line. The Pannier thanks would haul low riding wagons full of old rails, rotten sleepers, soil, rocks and other types of obstacles that were hazardous to passenger trains. The trains would then be emptied out at the tip, which was an essential dump site until its closure in the 70's. The pannier tanks were only based at Lillie Bridge Depot, near Earl's Court and Neasden Depot, on the Metropolitan Line, where a mojority of the panniers worked. Some were fitted with many condensing tank modifications, these were of course all inefective within in a short time period. The last London Underground Steam Hauled train was headed by a pannier in London Transport livery the engine was L.94, that is still preserved today.
Duck, a character from the Railway Series and Thomas & Friends, is based on this class of locomotives.
No. 5775 appeared in the film the Railway Children, where the three children; Roberta 'Bobbie' Waterbury, Phyllis Waterbury and Peter Waterbury saved it from a landslide.