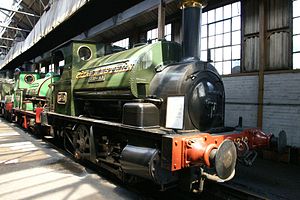 An GWR "Avonside" saddle tank engine is a 0-4-0ST type of steam locomotive. Several different versions and variants were built, and most were purchased for the Great Western Railway (GWR).
Many were also built with added sandboxes, like with GWR 57xx's. They originally were owned by private contractors.
Many were scrapped, while others have been preserved.
Ad blocker interference detected!
Wikia is a free-to-use site that makes money from advertising. We have a modified experience for viewers using ad blockers

Wikia is not accessible if you've made further modifications. Remove the custom ad blocker rule(s) and the page will load as expected.