No. 7802 or Bradley Manor is a 4-6-0 Hall Class steam locomotive made by GWR.
Bradley Manor was built on January of 1938 by the Swindon works for the Great Western Railway.
The locomotive was sent to Old Oak Common TMD being transferred to Bristol Bath Road TMD in 1939. It eventually ended up on the Cambrian section, arriving at Machynlleth in 1946 where it stayed until its final transfer to Shrewsbury in 1964. After Withdrawn from service in November 1965 it was sent to Woodham Brothers scrapyard in July 1966.
Luckily it was rescued from Barry in 1979 by the 'Erlestoke Manor Fund' Bradley Manor was based at the Severn Valley Railway where it is operational today.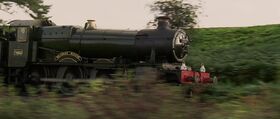 The locomotive was featured in a film The Chronicles of Narnia: The Lion, the Witch and the Wardrobe.
This is one of nine of the class to make it into preservation and is currently based on the Severn Valley Railway.
The work on Bradley Manor continued with it first moving under its own steam on 12 March 2002 and entering service for the Severn Valley Railway later in the year.
In November 2015, 7802 re-entered traffic after an overhaul shared between Bridgnorth works and Tyseley locomotive works.
Ad blocker interference detected!
Wikia is a free-to-use site that makes money from advertising. We have a modified experience for viewers using ad blockers

Wikia is not accessible if you've made further modifications. Remove the custom ad blocker rule(s) and the page will load as expected.