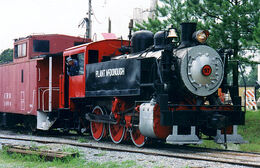 Georgia Power Company No. 97 is an 0-6-0T steam locomotive built in 1943 by the H. K. Porter for the Army Corps of Engineers as #5050.
The engine was designed to work as a switch engine for the Army Corps of Engineers railway.
It was later used by the Georgia Power Company during the building of Plant McDonough.
In 1965 the engine was donated to the Southeastern Railway Museum and it used to be in operation haul tourist trains.
Today it is still at the Southeastern Railway Museum but is currently awaiting funding for restoration.
Ad blocker interference detected!
Wikia is a free-to-use site that makes money from advertising. We have a modified experience for viewers using ad blockers

Wikia is not accessible if you've made further modifications. Remove the custom ad blocker rule(s) and the page will load as expected.