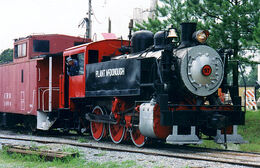 Georgia Power Company No. 97
is an 0-6-0T steam locomotive built in 1943 by the H. K. Porter for the US Army Corps of Engineers as #5050, and used as a switcher.
It was later used by the Georgia Power Company to help with the construction of Plant McDonough.
In 1965, the engine was donated to the Southeastern Railway Museum, where it was once used to take passengers up and down it's demonstration line.
Today, it is still at the Southeastern Railway Museum, but is currently awaiting funds for restoration.