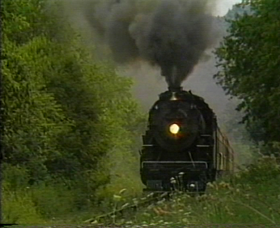 Grand Trunk Western No. 4070
is a 2-8-2 'Mikado' steam locomotive, built in 1918 by Alco for the Grand Trunk Western Railroad.
The locomotive was mainly designed to haul freight trains, but also did occasional passenger service whenever possible.
It was later renumbered as No. 4070, and retired from service in 1960.
The locomotive was seen hauling a passenger train from Chicago, IL to South Bend, IN in 1968.
It double-headed a passenger train with Reading Railroad No. 2102 in 1977.
The locomotive was donated to the Midwest Railway Historical Foundation in the 1970s where it hauled passenger trains and occasionally hauled demonstration freight trains. The locomotive made its last run in 1995.
Today it's still at the Midwest Railway Historical Foundation but it's currently under a very slow overhaul, which hardly seemed complete.
The locomotive only featured in two films such as "I Love Toy Trains" (during a "Real Trains" segment), and "The Natural" (1984).
In 2011 it was full of Christmas decorations and it had a large banner saying "Toys" displayed on both sides of the tender.
In 1984 the tender was re-lettered to 'Burlington Route,' also known as the CB&Q railroad.
This locomotive was one of the last steam locomotives to used in revenue service on an American railroad.
In 1982 it hauled a passenger train on the Cuyahoga Valley Line Railroad carrying a headboard saying "The American Flyer".
The locomotive once used to operate at the Cuyahoga Valley Scenic Railroad.
The engine crashed into a turntable at a roundhouse on June 9, 1955.
The original number given to it by the Grand Trunk Western was 474, it was later changed to 3734 and finally 4070.
It is featured in the book " Evening before The Diesel" by Charles Foss.
It is a USRA Light Mikado 2-8-2. After retirement by GTW in 1960, it was sold to a private owner, and leased from him in 1966, then purchased in 1971. The locomotive last ran in the Cuyahoga Valley in 1990. Some parts were removed, but it was never repaired.