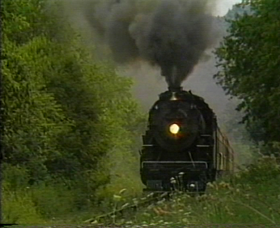 Grand Trunk Western No. 4070 is a 2-8-2 'Mikado' steam locomotive it was built in 1918 by Alco for the Grand Trunk Western Railroad as No. 3734.
The locomotive was design to haul passenger and freight trains for the Grand Trunk Western railroad.
It was later renumbered as No. 4070.
The locomotive was retired from the Grand Trunk Western railroad in 1960.
The locomotive was seen hauling a passenger train from Chicago, IL to South Bend, IN in 1968.
It double-headed a passenger train with Reading Railroad No. 2102 in 1977.
The locomotive was donated to the Midwest Railway Historical Foundation in the 1970s where it hauled passenger trains and occasionally hauled demonstration freight trains.
Today it's still at the Midwest Railway Historical Foundation but it's currently under overhaul.
The locomotive only featured in two films such as "I Love Toy Trains" (during a "Real Trains" segment), and "The Natural"(1984).
The locomotive made its last run at the MRHF in 1995.
In 2011 it was full of Christmas decoration and it had the "Toys" logo was on display on the tender.
In 1984 the tender was re-lettered to 'Burlington Route,' also known as the CB&Q railroad.  
This locomotive was one of the last steam locomotive to used in revenue service on an American railroad.
In 1982 it hauled a passenger train on the Cuyhoga Valley Line Railroad carrying a headboard saying "The American Flyer"
The locomotive once used to operate at the Cuyahoga Valley Scenic Railroad.
The engine crashed into a turntable at a roundhouse on June 9, 1955.
Ad blocker interference detected!
Wikia is a free-to-use site that makes money from advertising. We have a modified experience for viewers using ad blockers

Wikia is not accessible if you've made further modifications. Remove the custom ad blocker rule(s) and the page will load as expected.