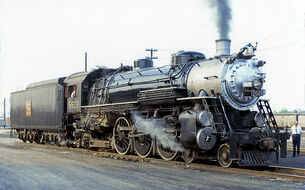 Grand Trunk Western No. 5629
is a class K-4-a 4-6-2
Pacific
-type steam locomotive. It was built in 1924 by Alco.
The 5629 was purchased by Richard Jensen from the Grand Trunk Western in 1959. He and other volunteers restored it to operating condition, and it started pulling excursions in 1961 on the B&O.
Throughout the 1960's, the 5629 would pull excursions through Chicago, Detroit, and other cities in the midwest. In 1967-68, it also pulled the Schlitz Circus Train of Baraboo's Circus World Museum.
In the 1970's, Richard Jensen had broken his back due to a refrigerator accident, and was unable to afford to run anymore excursions with 5629. He eventually moved it to Rock Island's Blue Island yard for storage. In the 1980's, however, the CRI&P filed for abandonment, and thus sold the yard to Metra. Metra wanted to re-design the property, including adding a new building, which would require moving 5629 off the property.
Metra asked Jensen to move 5629 out of the yard and to the Iowa Interstate Railroad, however, they wouldn't assist him in getting it there. This eventually led to a battle between the two parties in the court, and they ruled out that if 5629 wasn't moved out of Blue Island, that it would be scrapped. When the news spread to the public, several preservationist groups, including the Illinois Railway Museum, attempted to save 5629, but it was too late, Metra sent out a salvage crew and cut the locomotive up right where it stood. All railfans could do was watch with disbelief that the once preserved engine, was scrapped. Sister engines #5632 & #5030 still survive as of today.