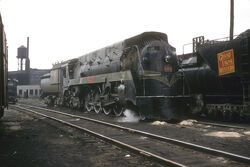 Grand Trunk Western No. 6407
is a class U-4-b 4-8-4 "Northern" type steam locomotive built by the Lima Locomotive Works in 1938 for the Grand Trunk Western Railroad, and used mainly on passenger service.
It was also often used to haul freight trains due to many GTW Northerns being occupied pulling passenger trains; in later years, diesel-electric locomotives hauled the passenger trains.
This locomotive was withdrawn from service in 1959 and later sold for scrap.
In the Thomas and Friends film "The Great Race", the character Vinnie is based on Grand Trunk Western No. 6407. He is portrayed as a bully.