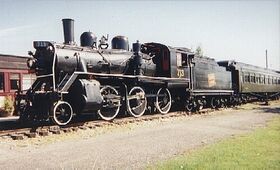 Grand Trunk Western No. 713
is a "Mogul" type 2-6-0 steam locomotive. It was built in 1900 by the GTR Point St. Charles Shops for the Grand Trunk Railroad as No. 922.
This locomotive was used for freight and passenger service on the Grand Trunk Western Railroad.
It is later sold to the Canadian National Railway and it was renumbered as No. 713.
It is now on static display at the Canadian Railway Museum.
This locomotive was featured in "The Tale of Train Magic" of the "Are You Afraid of the Dark?" series.