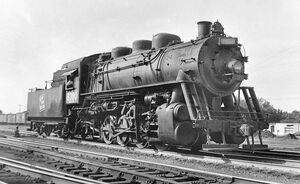 Grand Trunk Western No. 8380
is a class P-5-g 0-8-0 steam locomotive built by the Baldwin Locomotive Works in 1929 for the Grand Trunk Western Railway.
No. 8380 was designed to work as a switch engine on the Grand Trunk Western Railway, shunting passenger and freight cars. It was one of over seventy 0-8-0 switchers bought by the Grand Trunk Western for its Chicago-Detroit division.
8380 was sold to the Northwestern Steel & Wire Company in 1960, to work as a switcher in its yard. It was converted to burn oil and worked at the company's Sterling, IL, plant where hundreds of other steam locomotives were being scrapped until 1981, when it was out of service. At that time, it was one of the last industrial steam locomotives still in use in the USA. The locomotive was donated to the Illinois Railway Museum soon afterwards.
Today, this engine is part of the Illinois Railway Museum's collection in Union, Illinois, and it remains there on static display.