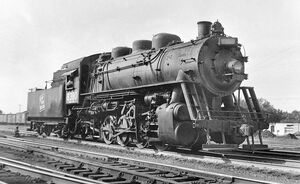 Grand Trunk Western No. 8380 is a class P-5-g 0-8-0 steam locomotive it was built by the Baldwin Locomotive Works in 1929 for the Grand Trunk Western Railway.
No. 8380 was design to work as a switch engine for the Grand Trunk Western Railway shunting passenger cars and freight cars.
It was sold to the Northwestern Steel & Wire Company in 1960, to work as a yard engine.
It was converted to burn oil and worked at the company's Sterling, IL, plant where hundreds of other steam locomotives were being scrapped until 1981 when it was out of service.
Today this engine is part of the collection at the Illinois Railway Museum in Union, Illinois.
No. 8380 is one of over seventy 0-8-0 switchers when it was bought by the Grand Trunk Western for its Chicago-Detroit system.
The locomotive was donated to the Illinois Railway Museum in 1981.
It was one of the last industrial steam locomotives still in use in the USA.
Ad blocker interference detected!
Wikia is a free-to-use site that makes money from advertising. We have a modified experience for viewers using ad blockers

Wikia is not accessible if you've made further modifications. Remove the custom ad blocker rule(s) and the page will load as expected.