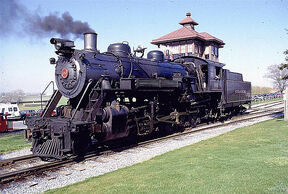 Great Western Railroad No. 90
 is a
2-10-0
type
steam locomotive
that currently works on the Strasburg Railroad. It originally worked in Colorado hauling sugar beet trains of about 40 to 50 cars length for the Great Western Railroad.
It was built in 1924 by the Baldwin Locomotive Works in Philadelphia, Pennsylvania for the Great Western Railroad. It was purchased by The Strasburg Railroad in 1967, and it is also one of the last operating decapods in the United States. 
Great Western 90 had numerous modifications over the years at the Strasburg Railroad. the most recent being in 2013 in which Engine 90 was repainted in a new paint scheme that was similar to that she wore back in the 1990's.The differences are that she doesn't have pin striping that was yellow as well as the lettering, the lettering is now painted in white. It's smoke box was painted silver, and its number plate was painted black. In 2015, she went under another modification, where her smoke box changed from silver to brown, she returned to service after her modification in February 2016.