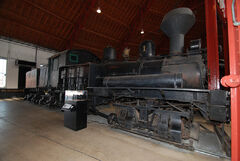 Greenbriar Cheat & Elk No. 1 is a Shay - 3 truck built by the Lima Locomotive Works in 1905 for the G. W. Huntley Lumber Company of Neola, WV.
The locomotive was sold that year to the Flint, Erving & Stoner Lumber Co. of Thornwood, WV, and owned successively by the North Fork Lumber Co. of Nottingham, WV, and then the Greenbrier, Cheat & Elk River Railroad at Cass, WV.
She is now a static display at the B&O Railroad Museum
No. 1 was acquired by the museum from the Cass Scenic Railroad.
In 1980 after swapping Western Maryland Shay #6 which had been in the museum's collection since 1953.
Ad blocker interference detected!
Wikia is a free-to-use site that makes money from advertising. We have a modified experience for viewers using ad blockers

Wikia is not accessible if you've made further modifications. Remove the custom ad blocker rule(s) and the page will load as expected.