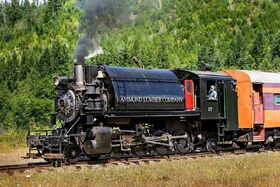 Hammond Lumber Co. No. 17
is a 2-8-2ST built by Alco in 1929 as #11 for the Crossett Western Company in Wauna, OR.
The year #11 was delivered, much of the Crossett timber lands suffered a series of major fires known as the Tillamook Burn, and #11 worked through the 1930s and early 1940s hauling out timber salvaged from the burn.
In 1942, it was sold to the Hammond Lumber Company in Samoa, CA, and renumbered #17.
Three years later, a fire destroyed a series of trestles while the locomotive was at a logging camp known as "The Gap". It was decided the cost of rebuilding the trestles was too great, and #17 sat at the camp unused for twenty years.
In 1965, a local mill owner named Gus Peterson bought #17 from Georgia-Pacific.
On 27th September 1966, #17 made its debut on Peterson's Klamath & Hoppow Valley Railroad. In 1980, #17 was sold with Pickering Lumber #10 and #11 to Tom Murray Jr., who had #17 disassembled and shipped by truck to Tacoma, WA, and then sent to the shops of the MRSR in Mineral, WA. He built a road into the old campsite, dismantled the engine, trucked it out piece by piece and then started work restoring it to operation.
During the 1980s, the engine sat outside the shops whilst restoration progressed on other locomotives. Work finally started on #17 in 1994 and then, in January the following year, it was fired up and joined the other locomotives operating on the MRSR.
Today, the locomotive is at the Mt. Rainier Scenic RR hauling passenger excursions.
#17 has been featured on Pentrex's "Mount Rainier Scenic Railroad", Golden Rail Video "The Rock Trains", Great Scenic Railway Journey's "The West" and "Celebrating North America's Steam Railroads".
#17 has used a number of whistles in the past. In 2000, #17 used a Boiler Tube 6 chime whistle and a Casey Jones whistle. #17 went down for her 1,472 rebuild in 2011. Since #17's 1,472 rebuild was completed in 2013, it now uses MRSR 2-8-2 #5's old excursion whistle, an Ashton 6 inch 3 chime.
It once used to borrowed the tender from engine No. 5 to handle a passenger train.
Over the years she used to do doubleheaders some passenger trains with No. 5.