Iarnród Éireann's 22000 class "Intercity-Railcar" DMUs have been in production since 2007, universally hated by all railfans they were built by Hyundai to facilitate the decimation of locomotive hauled services by Irish Rail.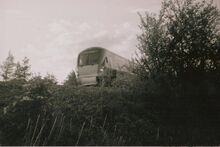 Technical Data
Edit
The trainsets are of a 2-Bo wheel arrangement and each car contains a Maybach H 1800 R83, 12.8 L, 6 cylinder engine of 486 h.p put through a Voith hydraulic transmission that puts down 380 h.p at rail and a recommended top speed of 100 m.p.h (although on trials it managed 112 m.p.h).
Implications
Edit
The delivery of these DMU's resulted in the rapid withdrawal of the imported Mark 2 coaches and, 2 years later the withdrawal of the BREL Mark 3 coaches. Also the 071 class locomotives that had so long been the number one locomotive for Irish Rail were relegated to light to medium weight freight trains and permanent way duties with the 201 class locomotives relegated to working heavy freight and the last locomotive hauled services. Their purchase also caused the withdrawal of the last 141 class locomotives as they removed the need for a station pilot.