The Illinois Central Mountain type locomotives are regarded as the heaviest 4-8-2 engines produced. A total of 136 engines were produced from 1923-1943.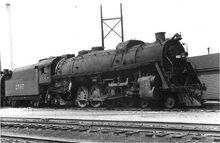 The Illinois Central (IC) ordered its first batch of 15 Mountains in 1923 in order from ALCO to relieve its overburdened Pacific fleet. These engines would be the lightest of the five batches only weighing at a total of 554,000 lbs. After this initial purchase the railroad bought four more batches, each weighing more then the last. These last batches were produced in the railroad's own shops.
The last group was delivered in 1943 making the grand total of engines to 136. Engine number 2516 was selected to haul the L&N's Centennial train on October 14,1959. Afterwards this engine was put up for sale as the railroad was dieselizing. When the Kentucky Railroad Museum didn't accept, the engine was sold for scrap.
Survivors
Edit
Number 2500 is on display at a park in Centralia, IL. Number 2542 is on display at the IC depot in McComb, MS.
The 2500 series were rebuilt from redundant 2-10-2's.