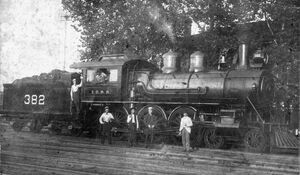 Illinois Central No. 382
was a 4-6-0
Ten-Wheeler
-type steam locomotive. It was built by the Rogers Locomotive Works in 1898 for the Illinois Central and it was a very powerful engine for the time.
It was used for freight and passenger service on the Illinois Central Railroad. The locomotive driven by Casey Jones on the night of his fatal crash on April 30, 1900 when the locomotive crash onto a stalled freight train near Vaughan, Mississippi.
After the crash it was rebuilt and returned to service but suffered a string of accidents killing at least 6 workers and injuring many others. The locomotive was retired and it was finally scrapped in 1935; on the way to the yard, it jumped the rails and cost the life of one final victim.
The engine is nicknamed "Casey's Cursed Locomotive" because when Casey drove the locomotive it was believed to have been cursed.
Over the years it was renumbered to 212, 2012, and finally 5012, but the "curse" held strong.
She was considered the most difficult locomotive to operate on the Illinois Central because of her perceived "curse".
The locomotive was also known affectionately as "Ole 382", or "Cannonball".
As of Today, There's a Different Locomotive has been renumbered the 382 and placed at the Casey Jones Home & Railroad Museum to commemorate the disaster.
Also, the mock-up steam locomotive 'Constitution' made for the 2013 Disney film The Lone Ranger bares a very strong resemblance to the 382.
In one ironic wreck, the engine overturned next to Memphis Coffin Works.
When the locomotive crash in 1900 it hauled a special passenger train called "The New Orleans Special".