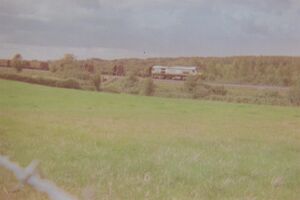 The 201 class locomotives were built by EMD in 1994 and 1995 for Northern Ireland Railways(NIR) and Irish Rail.
Locomotives 208 and 209 are owned by NIR.
They are essentially a mixed traffic version of the EMD Series 66.
11 of these locomotives have been withdrawn so far.
Technical Information
Edit
201 class locomotives are fitted with 12-710G3B engines. These engines are capable of producing 3200 b.h.p
They are capable of 100 m.p.h, which appears to be too much for the freight oriented bogies they ride on as they crack extremely frequently.
24 of these locomotives are capable of HEP.
These locomotives chronic issues with overheating when supplying HEP to trains. Some of which have burst into flames while working the cross border "Enterprise" service.
Ad blocker interference detected!
Wikia is a free-to-use site that makes money from advertising. We have a modified experience for viewers using ad blockers

Wikia is not accessible if you've made further modifications. Remove the custom ad blocker rule(s) and the page will load as expected.