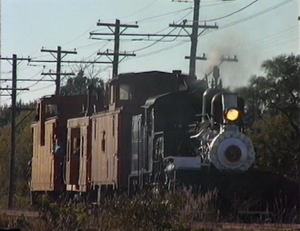 J. Neils Lumber Co. No. 5 is a 3 truck Shay. It was built by the Lima Locomotive Works in 1929 for the J. Neils Lumber Company.
The engine was designed to work for the J. Neils Lumber Company hauling log trains.
The locomotive was moved to the company's logging plant in Klickitat, Washington in 1939.
The locomotive fell into the ownership of a new owner - the newly-merged St. Regis Lumber company - in 1957 for only one year.
In 1958, No. 5 was retired and it was put in storage in an engine shed near Klickitat, Washington.
No. 5 used to operate on the subsidiary Klickitat Logging & Lumber line in 1960.
The locomotive was purchased by and donated to the Illinois Railway Museum in 1969 and it became the first steam locomotive to operate on the museum's mainline.
Today the locomotive is still at the Illinois Railway Museum but it's in the steam shop for an overhaul.
This was the first steam locomotive to operate on the Illinois Railway Museum's mainline.
On one October evening 1971, it tripleheaded with Commonwealth Edison No. 5 and Tuskegee No. 101.
At the Illinois Railway Museum it was rostered to haul a caboose train and sometimes freight and passenger trains.
The shay didn't operate at the museum since 1999.
In 2010 the museum was busy moving parts of 2 of its locomotives (Frisco No. 1630 and the shay) to add some more space in the shop.
In 1990 the No. 5 was hauling a passenger train, decorated with tons of American flags.
In 2004, it was put in storage at Barn 9 alongside with the Frisco No. 1630.
On October 29, 1967, No. 5 did the honors to haul the Museum's very first steam excursion.
On June 15, 2016, No. 5 made her first move under her own power since September, 1999.
Ad blocker interference detected!
Wikia is a free-to-use site that makes money from advertising. We have a modified experience for viewers using ad blockers

Wikia is not accessible if you've made further modifications. Remove the custom ad blocker rule(s) and the page will load as expected.