JNR Class C53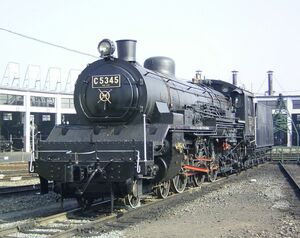 C53 45 preserved at the Umekoji Steam Locomotive Museum (now known as the Kyoto Railway Museum).
Details

Years built

1928 – 1930

Builder(s)

Kawasaki Sharyō, Kisha Seizō

Number Produced

97

Years in Operation

1928 – 1950

Fleet Numbers

C53 1 – C53 97

4-6-2

Number Preserved

1 (none operational)

Number Scrapped

96

Dimensions
(l × w × h)

67 ft 1 in × Unknown × 13 ft 1 in

Gauge

3 ft 6 in (1,067 mm)
V - E - T - D
The JNR Class C53 is a three-cylinder 4-6-2 Pacific-type steam locomotive built for the JNR from 1928 to 1930.
The C53s were used mainly as passenger locomotives and was the main steam locomotive in service when it came to steam-hauled passenger service in Japan for a time. The locomotives were retired in 1950. The C53s were the only Japanese-made steam locomotive to use Gresley conjugated valve gear, which was disliked by engineers due to added issues when it came to maintaining the locomotives; it was also the last Japanese steam locomotive to use conjugated valve gear.
One member of the class, C53 43, was streamlined in 1937 following in the veins of the Americans.
One C53, number C53 45, is preserved at the Kyoto Railway Museum, albeit as a static display.
The locomotives are popularly known as Shigosan (C53 in Japanese) among railfans.
References
Edit