JR Shikoku 2700 series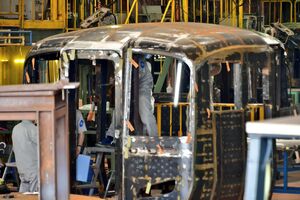 A 2700 series car under construction in May 2018. Note the scribble on the car body.
Details

Years built

2018 – Present

Builder

Kawasaki Heavy Industries

Number Produced

4 cars (4 under construction)

Formations

Unknown

Years in Operation

December 2018 (scheduled)

Fleet Numbers

None

Unknown

Type of Diesel Train

Number Operational

None

Number Preserved

N/A

Number Scrapped

N/A

Dimensions
(l × w × h)

Unknown

Prime mover(s)

Unknown

Gauge

3 ft 6 in (1,067 mm)
V - E - T - D
The JR Shikoku 2700 series is a Japanese Limited Express tilting diesel multiple unit. Built since 2018 for JR Shikoku, the sets are to be introduced into service in December 2018.
Information surfaced on 17 April 2018 that JR Shikoku was planning to produce four more diesel multiple unit cars for use on a variety of lines on the JR Shikoku network. Information from a presentation from JR Shikoku's stakeholders appears to have leaked out around the same time, titled "New 2700 series Limited Express diesel railcars scheduled to be introduced in December 2018"; JR Shikoku has neither publicly confirmed nor denied this.
Despite JR Shikoku not confirming or denying the existence of the 2700 series, a Tweet dated 24 May 2018 from Japanese Twitter user rixyou0 appears to confirm the existence of the 2700 series sets; in the aforementioned Tweet, images of a 2700 series cab car are seen being built at Kawasaki Heavy Industries' Hyōgo Plant, along with a scribble in what appears to be white paint on the front of the cab car, which translates to "2700 series No. 4 Mc". The caption of the Tweet is loosely translated to "Today's picture is of a 2700 series cab car. Reconfirmed due to it facing forward. Slightly lower roofline?".
One car body appears to have been constructed as of July 2018.
Adopting a "neo-Japonism" concept, the set is said to "combine traditional Japanese craftsmanship with modern styling". The body appearance of the sets appears identical to that of the 2600 series sets.
Specifications
Edit
Little information about the sets is known at present, although what can be gathered from the images of the cars being constructed is that the 2700 series sets will look very similar to the 2600 series sets, with the car bodies also appearing to be made of stainless steel. The sets will also have a tilting system, although it is unclear which sort; the sets will most likely use a bearing-guide pendular tilting system as opposed to the pneumatic tilting system on the 2600 series sets, as it was stated that the pneumatic tilting system was not working as it should.
References
Edit