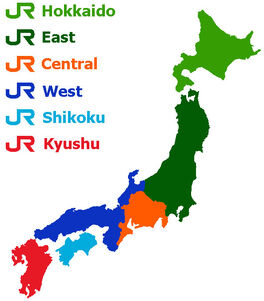 The Japan Railways Group (or JR Group) is a corporation made up of seven railway companies which operate in Japan. The group was started on the 1st of April 1987, when they took over the assets of the government owned Japanese National Railways. They are famous for operaing the Shinkansen trainsets.
Main Network Areas
Edit
JR Central controls the Tokyo area.
JR West controls the west side of Honshu.
JR East controls the east and north of Honshu.
JR Hokkaido controls the island of its name.
JR Kyushu controls the Kyushu island.
JR Shikoku controls the island of Shikoku.
JR Freight controls freight movements across Japan.
Shinkansen
Edit
Currently, only JR Central, JR West, JR East, and JR Kyushu operate Shinkansen lines. JR Hokkaido plans to begin construction of a line in 2015.
References
Edit
Ad blocker interference detected!
Wikia is a free-to-use site that makes money from advertising. We have a modified experience for viewers using ad blockers

Wikia is not accessible if you've made further modifications. Remove the custom ad blocker rule(s) and the page will load as expected.