This article or section may need to be rewritten. You can help Locomotive Wiki by improving it!
Please remove this notice if the page has been edited majorly.
The Jubilee line is a line on the London Underground.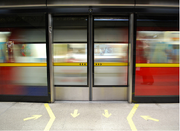 It origianly followed the metropolitan line for a while, and then broke off, terminating at Charing Cross. Nowadays, however, it no longer stops at Charing Cross at all, instead heading through the south of london and then rearing up to terminate at Stratford in north - east London.
The Jubilee line is coloured grey on the Tube map.
Ad blocker interference detected!
Wikia is a free-to-use site that makes money from advertising. We have a modified experience for viewers using ad blockers

Wikia is not accessible if you've made further modifications. Remove the custom ad blocker rule(s) and the page will load as expected.