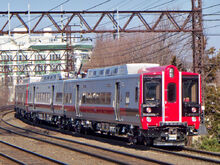 The Kawasaki M8 is an electric multiple unit rail-car built by Kawasaki Heavy Industries for the Metro-North Commuter Railroad (MNCR). It is primarily used on Metro-North's new Haven Line that runs between New Haven Union Station, in New Haven, Connecticut and, Grand Central Terminal, in New York City, New York.
Background History
Edit
Metro-North needed a new unit for revenue service, as their current fleet of M2, M4, and M6 rail-cars were becoming old and less reliable. In August 2010 the Connecticut Department of Transportation placed an order of 300 M8 units. The first couple rolled of the assembly line in December 2010 and were tested the same month. They were due to run in December 2010 but maintenance errors delayed their launch. The M8s first entered service on March 1, 2011 running from Stamford, Connecticut to Grand Central Terminal, New York.
Operations
Edit
The M8 uses its pantographs for most its journey on the New Haven Line. In New Rochelle, New York, the New Haven Line splits from the Northeast Corridor. The track Metro-North uses to reach Grand Central Terminal does NOT have overhead wires, instead it has a third-rail which Metro North uses between Pelham, NY and grand Central. At Pelham the M8 lowers its pantographs and drops its third-rail contact shoe to collect electricity. On May 17, 2013 a few M8s were wrecked at in accident in Fairfield, Connecticut.