LMS 3F 'Jinty' Class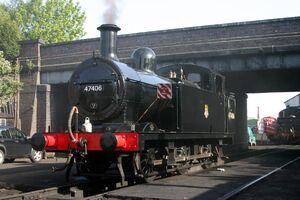 A LMS Fowler 3F 'Jinty' Class Locomotive
Details

Years built

1924

Builder(s)

British Railways

Number Produced

422

Years in Operation

1924-Present

Fleet Numbers

Unknown

0-6-0T

Number Preserved

9 (or 10)

Number Scrapped

412

Dimensions
(l × w × h)

Unknown

Gauge

4 ft 8 1⁄2 in (1,435 mm)
V - E - T - D
The Fowler 3F "Jinty" steam locomotive is a type of 0-6-0T tank engine which was built from 1924 up to 1931 in considerably large numbers. The Jinty is considered to be one of the most popular, recognizable, and reliable types of tank engines built in Britain. Many were purchased by the London, Midland, and Scottish Railway, (or LMS) and were soon reclassed, renumbered, and soon withdrawn in the late-1950's by British Railways. The first of the MR Johnson Class 2441 tanks - on which the Jinties were based - was withdrawn in 1954, and the last by 1966. The first of the Fowler 3F tanks were scrapped in 1959; the last were withdrawn in 1967 after a 43 year career.
In the 1940s-50's some of the Jinty tank engines were allocated to Bromsgrove station, which was at the foot of the Lickey Incline, one of the steepest railway worked inclines in the British Isles. The gradient on the Lickey was so steep that George Stephenson warned that such a gradient would prove unworkable for steam traction, this however was proved wrong by the Jinty tanks. These tank engines were often paired in twos or threes (and on rare occasions, even in fours) and banked mainline passenger and goods train up the incline to the now closed Blackwell station, a-top of the hill.
They worked besides the Midland Railway Lickey Banker: "Big Bertha" and even a few elderly Johnson 3F 0-6-0's, but were replaced in the mid to late 50's by a few Hawksworth Class 9400 0-6-0 Pannier Tanks and a couple of BR 9F 2-10-0's, until 1964, when the line became - and still remains to be - diesel-worked, and Bromsgrove shed closed. Along with the Lickey, the Jinty was a common sight in stations around the UK shunting passenger and freight trains, along with working light goods itself. 8 were loaned to France in 1940 where they worked until 1948 with three destroyed or missing during 1945.
Preservation
Edit
Several have been preserved, as well as being rebuilt. A total of nine survive - ten if you count the remains of 47564.