LMS 3F 'Jinty' Class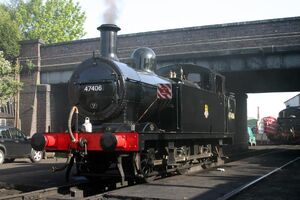 '
Details

Years built

1924

Builder

British Railways

Number Produced

Unknown

Years in Operation

1924-Present

Fleet Numbers

Unknown

0-6-0T

Number Preserved

Unknown

Number Scrapped

Unknown

Dimensions
(l x w x h)

Unknown

Gauge

Unknown
V - E - T - D
The Fowler 3F "Jinty" steam locomotive is a type of 0-6-0T tank engine which was first built in 1924. The Jinty is considered to be one of the most popular, recognizable, and reliable types of tank engines built in Britain. Many were purchased by the London, Midland, and Scottish Railway, (or LMS) and were soon reclassed, renumbered, and soon withdrawn in the late-1950's by British Railways. They were withdrawn in 1967 after a 43 year career.
In the 1940s-50's some of the Jinty tank engines were allocated to Bromsgrove station, which was at the foot of the Lickey Incline, one of the steepest railway worked inclines in the British Isles. The gradient on the Lickey was so steep that George Stephenson warned that such a gradient would prove unworkable for steam traction, this however was proved wrong by the Jinty tanks. These tank engines were often paired in two's and banked mainline passenger and goods train up the incline to the now closed Blackwell station, a-top of the hill. They worked besides the Midland Railway Lickey Banker: "Big Bertha", but were replaced in the mid to late 50's by the Hawksworth Large Pannier Tank, until the end of steam in 1968. Along with the Lickey, the Jinty was a common sight in stations around the UK shunting passenger and freight trains, along with working light goods itself. 8 were loaned to France in 1940 where they worked until 1948 with three destroyed during 1945.
Preservation
Edit
Several have been preserved, as well as being rebuilt. But the majority of other 3F's were purchased by other railways before the formation of British Railways (BR). Some being Australian railroads and railways.
Ad blocker interference detected!
Wikia is a free-to-use site that makes money from advertising. We have a modified experience for viewers using ad blockers

Wikia is not accessible if you've made further modifications. Remove the custom ad blocker rule(s) and the page will load as expected.