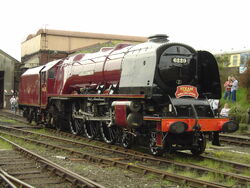 No. 6229 (BR number: 46229) or "Duchess of Hamilton" is a 4-6-2 "Pacific" steam locomotive designed by William Stanier. She was built at the LMS Crewe Works in 1938.
No. 6229 was built as a streamliner. The tenth Coronation Class loco to be built, and part of a batch of five locomotives to be painted red with gold stripes. Then in 1939 she swapped her name and number with No. 6220 "Coronation" the first of the class. She was then moved to the USA so that she could take part in the 1939 New York World's Fair. This meant there was a red 6220 in North America and a blue 6229 in the United Kingdom. After the outbreak of World War II, she was shipped back to the UK in 1942. In '43 she regained her original identity and was painted in wartime black, November 1954.
Then her streamlined casing was removed in December 1947, to aid maintenance. She then gained the LMS 1946 black livery. After the war she passed into British Railways ownership in 1948. This is when her number was changed to 46229 on the 15th of April 1948. Her livery was changed to the BR blue in April 1950, and was replaced with Brunswick Green on the 26th of April 1952.
In February 1957 her semi-streamlined smokebox was replaced with a round-topped one. And by September 1958 she had a new maroon (red) livery.
Preservation
Edit
Instead of becoming scrap metal No. 46229 was bought by Sir Billy Butlin as an exhibit at one of his holiday camps. After spending some time at the Minehead Holiday Camp, the Duchess of Hamilton was returned to the main line by the National Railway Museum under a twenty-year loan from Butlin in 1976. Then the museum bought the locomotive in 1987 and she first ran as the museum's flagship locomotive in 1980. She was operational until 1985, then after an overhaul continued running from 1989 to 1996 when she was finally withdrawn from main line duties.
She became a static exhibit in 1998, until 2005, next to Mallard at the National Railway Museum. In September 2005 it was announced that the National Railway Museum was to re-install her streamlining. This was done by Tyseley Locomotive Works and on the 18th of May 2009 she was returned to the National Railway Museum in streamlined condition.
References
Edit