LMS Jubilee Class No. 5596 "Bahamas"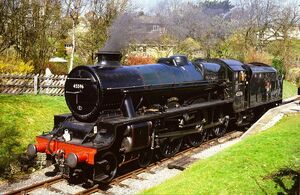 '
Details

Years built

Unknown

Builder

William Stanier

Number Produced

Unknown

Years in Operation

Unknown

Fleet Numbers

Unknown

4-6-0

Number Preserved

Unknown

Number Scrapped

Unknown

Dimensions
(l x w x h)

Unknown

Gauge

4 ft 8 1⁄2 in (1,435 mm)
V - E - T - D
LMS Jubilee Class No. 5596 Bahamas is a type of LMS Jubilee Class 4-6-0 steam locomotive.
No. 5596 "Bahamas" was built in 1935 by the North British Locomotive Company in Glasgow. "She" was named Bahamas in 1936 after the Bahamas, which were then part of the British Empire. After nationalisation in 1948, Bahamas was renumbered by British Railways to 45596 and transferred to Edge Hill, Liverpool.
In 1961, she was unusually fitted with a double blastpipe and chimney, and was returned to traffic and based at Carlisle. She was transferred to Stockport in July 1962, from which she was withdrawn from traffic in July 1966.
Now based at the Keighley and Worth Valley Railway, she is owned by the Bahamas Locomotive Society. Until the end of 2012, Bahamas is on loan to the National Railway Museum in York as a display inside the Great Hall, after taking part in the NRM's Railfest. Her society members are raising funds for her next overhaul.