LMS Stanier Class 5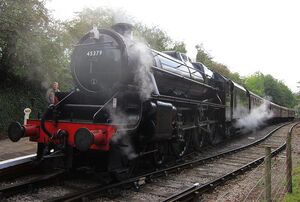 '
Details

Years built

1934–1951

Builder

William Stanier
Crewe Works (241) Crewe, East Cheshire, Derby Works (54) Derby, Derbyshire, Horwich Works (120), Horwich, Bolton Vulcan Foundry (100) Newton-le-Willows, Merseyside, Armstrong Whitworth (327) Elswick, Newcastle upon Tyne

Number Produced

842

Years in Operation

1934-1968

Fleet Numbers

Unknown

4-6-0

Number Preserved

18

Number Scrapped

824

Dimensions
(l x w x h)

Length: 63 ft 7 3⁄4 in (19.40 m) to 63 ft 11 3⁄4 in (19.50 m)

Gauge

4 ft 8 1⁄2 in (1,435 mm)
V - E - T - D
The LMS Stanier Black 5, is a type of 4-6-0 steam locomotive which was built between 1934 and 51 with several variations.
18 are preserved, with only about 2 or 3 operating steam excursions.
They were a mixed traffic locomotive, a "do-anything go-anywhere" type, designed by William Stanier, who had previously been with the GWR. In his early LMS days, he designed his Stanier Mogul 2-6-0 in which he experimented with the GWR "School" Class of thought on locomotive design.
A number of details in this design he would never use again realising the superiority of details not used on the GWR. Stanier realised that there was a need for larger locomotives. These were to be the LMS's version of the GWR Halls but not a copy, as the Hall was too wide to run most places in Britain. They shared similar cylinder arrangement (two outside), internal boiler design and size and 6 foot driving wheel diameters.
In their early days, the locomotives were known as the "Black Staniers" from their black livery, in contrast to Stanier's other class of 4-6-0, the LMS Stanier Jubilee Class, which were painted crimson (and known until April 1935 as the "Red Staniers"). Later on, the nickname of the former became "Black Five", the number referring to the power classification. This was originally 5P5F, but from 1940 was shown on cabsides as the simple figure 5.
Specifications
Edit
The locomotives weighed in at 72.2 or 75 long tons. The driving wheels were 72 in (1.8 m) diameter and the carrying wheels were 39.5 in (1 m) diameter. The locomotives had 2 cylinders which were feed from a superheater. The boiler produced 225 psi of pressure, and the fire grate was 27.75 or 28.5 ft2 (2.57 or 2.65 m2). The locomotive made 25,455 lbf of tractive effort.
The tender could carry 4000 imperial gallons of water, and 9 long tons of coal.
Ad blocker interference detected!
Wikia is a free-to-use site that makes money from advertising. We have a modified experience for viewers using ad blockers

Wikia is not accessible if you've made further modifications. Remove the custom ad blocker rule(s) and the page will load as expected.