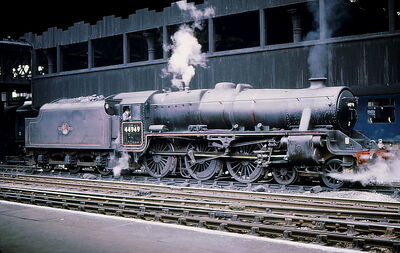 The London, Midland and Scottish Railway (LMS) "Stanier Class 5", is a mixed traffic engine, that was built from 1934 to 1951.
The Stanier Black 5's were nicknamed Black Five's, and were one of the most iconic and memorable designs of British History. These mixed traffic engines, were capeable of pulling any train in any area of the United Kingdom. They were described by many engine crews as an engine you could take anywhere with you. The Black 5's were found working all over British Rails, from the day they were built, to the day of their final withdrawal. They were found from the Ocean Terminals at Southampton and Portsmouth, through the Midlands near Birmingham, all the way up to Scotland, on the gruelling highland routes. But these engines reigned supreme in the Northwest of England, around places like Carnforth and Carlisle. 
These engines were popular with crews and passengers alike, through their powerfully robust and flawless nature, in fact these engines were one of the most relible locomotive designs in the country. So it isn't suprising that 842 of these engines were produced, for goods and passenger trains alike, and many companies took part in building these engines. The LMS built most of their engines in Crewe, Derby and Horwich Works, but only 415 Black 5's were built there, the majority were built elsewhere, by other contracters. Such as the Vulcan Foundary, where 100 were built, and a further 327, were built by Armstrong Whitworth. In the war efforts, many of the black fives were shipped to Turkey and a few even to Israel during World War 2, to help with the war efforts. Though mostly the Stanier 8F's were sent over instead. 
There were very little modifications done on the Black 5's, because of their flawless build, however No.4767, was modified, by George Ivatt, who gave the engine a Stephenson Valve Gear in 1947 and hence, was named "George Stephenson". Also a number of the Black 5's were given a Caprotti valve gear, the same valve gear as the Duke of Gloucester locomotive. The valve gear was produced by Aturo Caprotti, an Italian architect.
There were very little problems with the Black 5's as a whole, however there were issues, that held them back. When they worked on the highand lines, up in Scotland, the engines were found to have slower exceleration from stations, than older Highland Engines such as the LNER D40's. Also, the locomotive frames were fairly weak and somewhat too thin. The cylinders on the Black 5's were very powerful to provide the engines, with such strength, but sometimes there were reports of the frames cracking, when the pistons eventually wore them out, due to the cylinders' exceptional power. 
Preservation
Edit
Out of a huge class of 842, only 18 Black 5's survive today in the World, yet 8 of which still carry their original names, that they were given. Out of the surviving number that survive, 4 are certified for mainline running, another 4 are under overhaul. A total of 8 Black 5's are only permitted to running on heritage railways only, whilst Ian Riley ownes one and and No.4767 "George Stephenson" still survives, with the original Ivatt installed Stephenson valve gear still fully functional. 
Ad blocker interference detected!
Wikia is a free-to-use site that makes money from advertising. We have a modified experience for viewers using ad blockers

Wikia is not accessible if you've made further modifications. Remove the custom ad blocker rule(s) and the page will load as expected.