LNER Class A1 60163 Tornado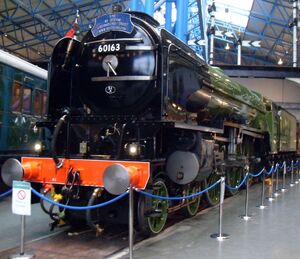 LNER Class A1 60163 Tornado at the National Railway Museum at York
Details

Years built

1994-2008

Builder(s)

A1 Steam Locomotive Trust

Number Produced

1

Years in Operation

2009-present

Fleet Numbers

60163

Unknown

Number Preserved

number preserved

Number Scrapped

number scrapped

Dimensions
(l × w × h)

locomotive dimensions

Gauge

normal gauge
V - E - T - D
LNER Class A1 60163 Tornado is a main line coal-fired steam locomotive built in Darlington Works, England. Completed in 2008, Tornado was the first such locomotive built in the United Kingdom since BR Standard Class 9F 92220 Evening Star, the last steam locomotive built by British Railways in 1960. It is the only example of an LNER Peppercorn Class A1 locomotive in existence, the entirety of the original production batch having been scrapped without preservation. The locomotive's namesake is the Panavia Tornado, a combat aircraft flown by the Royal Air Force. In April 2017 Tornado became the first steam locomotive to officially reach 100 mph in over 50 years on British tracks.
Construction of Tornado began in 1994, and was based at Darlington Works for most of the project, while numerous components such as the boiler were manufactured elsewhere. The project was financed through fundraising initiatives such as public donations and sponsorship deals; further funding came from hiring out Tornado itself for special rail services. Construction was completed in 2008, and full certification of the locomotive was achieved in January 2009. Having been designed with compliance to modern safety and certification standards, Tornado has been conducting passenger services on Network Rail and on mainline-connected heritage railways since 2008.
Appearances in Media
Edit
 On 25 April 2009, Tornado hauled a 10-coach Cathedrals Express charter from London King's Cross to Edinburgh Waverley. This private train was filmed by the BBC for a Top Gear race, in which Jeremy Clarkson on the train raced James May in a Jaguar XJ120 and Richard Hammond on a Vincent Black Shadow motorbike. Tornado was booked to complete the 390.2-mile (628.0 km) journey in 8 hours 2 minutes, without any passenger stops at stations, but with four water stops en route at Grantham, York, Tyne Yard and Berwick-upon-Tweed, totaling 95 minutes booked stoppage time. May and Hammond were restricted to using A-roads. In a close finish, Tornado came second behind the Jaguar, with a difference of only about ten minutes between them. The train was formed from the maroon support coach and a uniform rake of nine Royal Scot blood and custard coaches. The race featured in the first episode of the show's thirteenth series, airing on 21 June 2009.
Tornado, as well as LMS Hughes Crab No. 13065, appeared in the 2018 film, Paddington 2. In the film, no. 13065 was pulling a circus train that Paddington Bear climbed aboard at the Great Western Railway's terminus, Paddington. His family chased after him by climbing on board Tornado, who was due out with an express at the same time. A chase ensued between the two locomotives, with Tornado easily keeping up with no. 13065. Things were looking up in Paddington's favor, only for the brakevan of the circus train to come uncoupled and careen into the river, with Paddington still inside. Luckily, his family got him out in time.