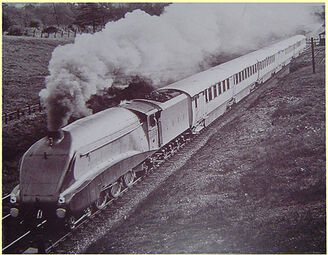 London and North-Eastern Railway No. 2509 Silver Link is a type of Class A4 4-6-2 'Pacific' steam locomotive.
It was the first LNER A4 Class locomotive built in 1935, and was assigned to pull a new train called the Silver Jubilee.
Silver Link made its inaugural journey from King's Cross on September 29 1935. It reached a speed of 112mph, breaking all previous records. The record provoked the LNER and their chief rival the London, Midland and Scottish Railway (LMS) into a highly competitive speed war, each attempting to outdo the other by building ever faster locomotives. The main protagonists were Sir Nigel Gresley, LNER's chief mechanical engineer, and his counterpart at LMS, Sir William Stanier.
Allocated to Kings Cross shed, it was withdrawn from service in 1963 when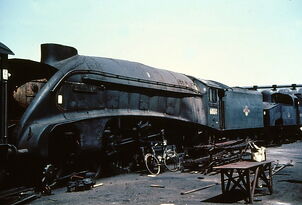 the East Coast Main Line express services were taken over by Deltic diesel locomotives. It was not preserved after withdrawal and was cut up at Doncaster Works.
The locomotive made a brief appearance in the film Oh, Mr. Porter!. It was also the subject of art deco posters for the Silver Jubilee.
For a number of years, one of its sister locomotives, Bittern was painted to represent Silver Link in its original silver and grey livery.
Two instances of the Silver Link nameplate are on display at the National Railway Museum, York, UK; as well as the fact that the Mallard wore these plates during some of her earlier excursions.
Ad blocker interference detected!
Wikia is a free-to-use site that makes money from advertising. We have a modified experience for viewers using ad blockers

Wikia is not accessible if you've made further modifications. Remove the custom ad blocker rule(s) and the page will load as expected.