LNER V2 No.4771/60800 '
Green Arrow'
 is a mixed traffic Prairie (2-6-2 wheel arrangement) steam locomotive built in 1936. Designed by Sir Nigel Gresley, she is the prototype and sole preserved V2, as part of the national collection. She is currently one of the main attractions of the National Railway Museum in York, England.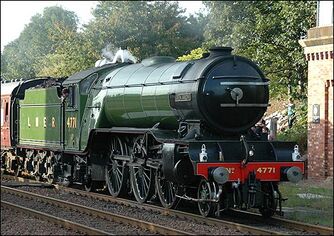 The 184 strong V2 class was once common on the East coast mainline, operated by the London and North Eastern Railway - a merger of a number of railway companies, notably the Great Northern Railway, Great Eastern Railway and Great Central Railway.
Green Arrow served as a mixed traffic steam locomotive from June 1936 until withdrawal by British Railways in August 1962. During this period she was renumbered three times. Green Arrow was initially numbered 637, being changed to 4771 before entering service. She was renumbered 800 in November 1946 under the directive of Edward Thompson and became No.60800 in February 1949 under ownership of BR - all Eastern region locomotives having 60XXX added to their number.
Over her working life, 4771 has worn a number of liveries - LNER apple green, LNER wartime black, NE wartime black, post war unlined LNER black, BR mixed traffic lined black with 'BRITISH RAILWAYS' wording, Early BR mixed traffic lined black and Late BR green.
60800 entered preservation upon withdrawal and was reverted back to 1936 condition at Doncaster works, being painted in LNER apple green and being renumbered 4771. Green Arrow was slated for the new Leicester Municipal museum. A few years of storage led to her ending up at Norwich depot in 1972 and now slated for inclusion in the new National Railway Museum in York. It was at this point that she was returned to working order and enjoyed a mainline running career in both her 4771 and 60800 guises, being withdrawn upon expiry of another 10 year boiler certificate in April 2008.
Before her boiler ticket ran out in 2008, her boiler developed some problems - mostly the tubes. On her way from York to Shildon, however, her delicate monobloc cylinder casting cracked, which worsened the locomotive's condition. Also, the firebox was in such a poor state that it needed to be replaced. So as to return the locomotive to operation, an expensive overhaul is required, along with the repairs of the monobloc cylinder casting, boiler, and firebox. But plans to return her to steam have foundered for the time being, due to costs and NRM policy.
Although Green Arrow is mainly displayed at York, she has also been displayed at "Locomotion", the National Railway Museum at Shildon and has travelled to Barrow Hill roundhouse since expiry of her boiler certificate. She is now on display at Shildon.
Ad blocker interference detected!
Wikia is a free-to-use site that makes money from advertising. We have a modified experience for viewers using ad blockers

Wikia is not accessible if you've made further modifications. Remove the custom ad blocker rule(s) and the page will load as expected.