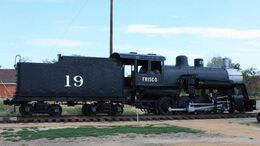 Lake Superior & Ishpeming No. 19
is a class SC-4 2-8-0 "Consolidation" steam locomotive built by Alco in 1910 for the Lake Superior & Ishpeming railroad as LS&I 12.
The locomotive was used to haul iron ore transport between Marquette, MI and work at docks located on Lake Superior in which the ore would be shipped to steel mills on the lower lakes.
It was renumbered 19 in August of 1923 then In 1962, the locomotive was retired after over 50 years of service when the LS&I dieselized. It was sold to M&HM in July of 1963.
In 1985 it was retired from service and it was sold to the scrap merchant Ishpeming Steel Company in Marquette, MI.
Then in 1985 it was donated to the Grand Canyon Railroad and then on to the Harvey Group for display at the MGM Grand Hotel in Las Vegas.
Today it's on static display at the Frisco Heritage Museum.
When the locomotive was sold to the City of Frisco, TX, in 2004 the Frisco Heritage Museum, it has been liveried as SLSF #19.
In 1963, the LS&I sold three of its Consolidations including #19 to the Marquette & Huron Mountain tourist railroad that operated on the recently abandoned Big Bay branch line.
Originally numbered #12, in 1923, the engine was renumbered #19 and redesignated as Class SD-4.
This is one of five Class SC-4 Consolidation type (2-8-0) locomotives built at Alco's Pittsburgh, PA, shops in 1910 for the Lake Superior & Ishpeming Railroad (#9-#13).