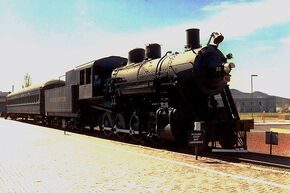 Lake Superior & Ishpeming RR No. 20 is a class SC-4 
2-8-0
"Consolidation"
steam locomotive
that was built by Alco in 1910 for the Lake Superior & Ishpeming railroad.
The locomotive used to pulled iron ore trains to transport between Marquette, MI and work at docks located on Lake Superior in which the ore would be shipped to steel mills on the lower lakes.
On November 9, 1969 No. 20 was retired from service and it was put in the scrap line at Marquette, Michigan where the locomotive was going to be scrap.
Since 1989 - 2006 No. 20 used to restore by the Grand Canyon Railroad but No. 20 has not yet been rebuilt to operational status and is only in storage.
In 2007 the locomotive was taking part in the Mt. Hood Scenic Railway along side with locomotive No. 18 but it's not Operational but instead it was put on static display.   
Today the locomotive was now in storage at the Rio Grande Scenic Railroad in Alamosa, CO.
Ad blocker interference detected!
Wikia is a free-to-use site that makes money from advertising. We have a modified experience for viewers using ad blockers

Wikia is not accessible if you've made further modifications. Remove the custom ad blocker rule(s) and the page will load as expected.