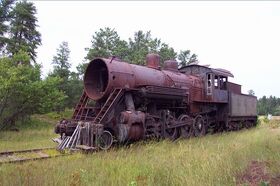 Lake Superior & Ishpeming RR No. 21 is a class SC-4 2-8-0 "Consolidation" steam locomotive that was built by Alco in 1910 for the Lake Superior & Ishpeming railroad.
It spent years working on the Lake Superior & Ishpeming railroad hauling Iron ores between Marquette, MI docks on Lake Superior from which the ore would be shipped to steel mills on the lower lakes.
No. 21 also ran the Marquette & Huron Mountain Railroad to haul tourist trains.
On November 9, 1969 No. 21 was retired from service and it was put in the scrap line at Marquette, Michigan where the locomotive was going to be scrap.
Today it's at the Mid-West Locomotive & Machine Works where it was put under Restoration to Operating condition.
After sitting in the Marquette rail yards for more than 4 decades, the locomotive been sold to Michael Goodell 6/03 who plans to bring it to Augusta, WI and restore it.
Ad blocker interference detected!
Wikia is a free-to-use site that makes money from advertising. We have a modified experience for viewers using ad blockers

Wikia is not accessible if you've made further modifications. Remove the custom ad blocker rule(s) and the page will load as expected.