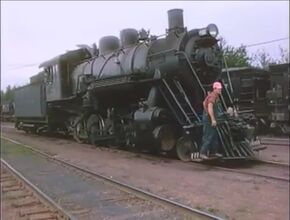 Lake Superior & Ishpeming No. 23
is a class SC-4 2-8-0 Consolidation type steam locomotive. It was built by Alco in 1910 for the Lake Superior & Ishpeming Railroad.
It spent most of its career working iron ore trains to and from the mines of Michigan's Upper Peninsula.
It was sold to the Marquette & Huron Mountain Railroad, a tourist railroad, in July 1963 where it hauled passenger trains, and the occasional freight.
It is now at the Empire State Railway Museum where it used to be a static display, but now it is undergoing restoration to operating condition.