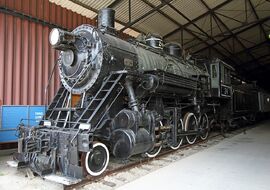 Lake Superior & Ishpeming RR No. 24 is a class SC-4 2-8-0 Consolidation type steam locomotive it was built by Alco in 1910 for the Lake Superior & Ishpeming as #40 for the Marquette & Southeastern Railway, which operated a sixty mile line between Big Bay and Lawson, MI.
In 1911, the Marquette & Southeastern merged with the Munising Railway, a short line between Munising and Princeton, MI.
The Munising, Marquette & South Eastern Railroad merged with the Lake Superior & Ishpeming Railroad in 1923.
The LS&I renumbered the locomotive #24, and modernised it with a wider firebox in 1931.
The locomotive was retired in 1939 and it was donated to the National Railroad Museum as their first steam locomotive to operate as a tourist engine.
Today it's still at National Railroad Museum but the engine is now a static display.
Ad blocker interference detected!
Wikia is a free-to-use site that makes money from advertising. We have a modified experience for viewers using ad blockers

Wikia is not accessible if you've made further modifications. Remove the custom ad blocker rule(s) and the page will load as expected.