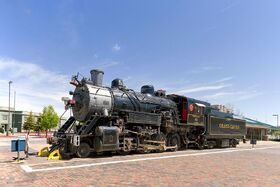 Lake Superior and Ishpeming No. 29 is a class SC-3 2-8-0 steam locomotive. It was built by Alco in 1906 for the Lake Superior and Ishpeming Railway as No. 14.
The locomotive design to operated on iron ore train service for the Lake Superior and Ishpeming Railway
It was renumbered 29 in August of 1923.
The locomotive was retired from service in the late 1950's and it was sold to M&HM as 29, in July 1963 and then sold to the Ishpeming Steel Co in January 1985.
The locomotive was then donated by the Grand Canyon Railway in 1989.
As of today it's at the Grand Canyon Railway.
No. 29 is sometimes placed on static display at the Grand Canyon.
No. 29 hauled the very first train from the Grand Canyon in the Spring of 1990.
No. 29 also pulled the Grand Canyon during the winter but only when No. 18 is under restoration.
In 2006 and 2016 it doubleheaded with Grand Canyon Railway No. 4960.
Immediately after being returned to the LS&I, #29 was sold on to the scrap dealer, the Ishpeming Steel Company.
As of 2016, No. 29 is out of service.
When the locomotive arrived at the Grand Canyon Railroad in 1989, it was not intended to operate; instead, it was put in the shop for a restoration to working order.
Ad blocker interference detected!
Wikia is a free-to-use site that makes money from advertising. We have a modified experience for viewers using ad blockers

Wikia is not accessible if you've made further modifications. Remove the custom ad blocker rule(s) and the page will load as expected.