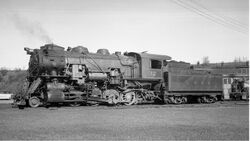 Lake Superior & Ishpeming RR No. 32
is class SC-1 Consolidation type 2-8-0 steam locomotive built in 1916 by the Baldwin Locomotive Works for the Lake Superior & Ishpeming Railroad.
The locomotive was built to haul heavy freight trains on the south shore of Lake Superior until it was retired from service in 1959. It was sold to the Marquette & Huron Mountain tourist railroad in 1963 along with the other two 1916-built Consolidations (#35 & 34).
In the late 1970's, No. 32 was sold for scrap and quietly broken up.