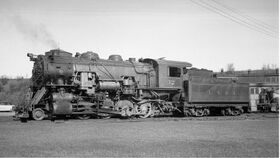 Lake Superior & Ishpeming RR No. 32 is class SC-1 Consolidation type 2-8-0 steam locomotive built in 1916 by the Baldwin locomotive works for the Lake Superior & Ishpeming Railroad.
The locomotive was design to hauled drag freight on the south shore of Lake Superior until retired from service in 1959 and it was sold to the Marquette & Huron Mountain tourist railroad in 1963 along with the other two 1916 Consolidations (#35 & 34).
In the late 1970s No. 32 does not exist anymore because it Was scrapped.
Ad blocker interference detected!
Wikia is a free-to-use site that makes money from advertising. We have a modified experience for viewers using ad blockers

Wikia is not accessible if you've made further modifications. Remove the custom ad blocker rule(s) and the page will load as expected.