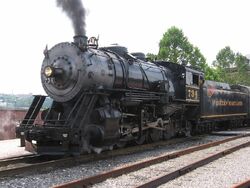 Lake Superior & Ishpeming RR No. 34
is a class SC-1 Consolidation type 2-8-0 steam locomotive built in 1916 by the Baldwin locomotive works for the Lake Superior & Ishpeming Railroad.
The engine had a long career with the Lake Superior & Ishpeming Railroad, working out of Marquette, MI.
It was retired in 1951 and stayed on the company's dead line at Marquette until the railroad sold three SC-1s (#32, #34 & #35) to the Marquette & Huron Mountain tourist railroad in 1963.
No. 34 was sold to the Western Maryland Scenic Railroad in 1991, where it was converted to make it look more like a Western Maryland Class H-7 2-8-0 locomotive and renumbered #734.
As of today the engine hauls passenger excursions and occasional freight trains at the Western Maryland Scenic Railroad.
While operating on the Western Maryland Scenic Railroad, she has been nicknamed "Mountain Thunder".
No. 34 worked for four years hauling passengers from West Yard to Big Bay, WI, and West Yard to Marquette, WI, on old LS&I track age.
In November of 1967, #34 was sold to the Illinois Railway Museum were it used to be put on static display.
Between October 21st and 22nd, 2013 the locomotive was renumbered 729.
In May 2011, Jeopardy Host Alex Trebek took the throttle of mountain thunder for the railroading 101 category on November 25th just 6 months later.
Then in 1993 the restoration was complete and it was working in operating condition.
When it was bought by the WMSR and underwent a restoration and rebuild, including increasing boiler pressure to 200 psi, replacing the tender with New York Central Mohawk #2662's.
Due to the restoration of Chesapeake & Ohio 2-6-6-2 #1309, Mountain Thunder ran its final regular trains of the 2015 season, and also some Freight Specials in February & April of 2016 for the ultimate disassembly of the FRA inspection.