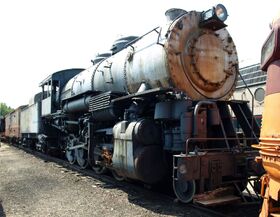 Lake Superior & Ishpeming No. 35 is a class SC-1 2-8-0 "Consolidation" steam locomotive that was built by the Baldwin locomotive works in 1916 for the Lake Superior & Ishpeming railroad as its number 19.
The locomotive was design to hauled drag freight on the south shore of Lake Superior until sold to the Marquette & Huron Mountain tourist railroad in 1963 along with the other two 1916 Consolidations (#32 & 34).
In 1991 the locomotive was sold to the Illinois railway museum were it was put on static display.
As of Today the engine is part of the collection at the Illinois Railway Museum.
The locomotive is one of three (2-8-0) Consolidations Baldwin delivered to the Lake Superior & Ishpeming in 1916 (#18-#20), this locomotive was renumbered #35 in 1923.
Both #34 and #35 were bought by the IRM in 1985.
The engine was donated to the Illinois Railway Museum since 1985.
Ad blocker interference detected!
Wikia is a free-to-use site that makes money from advertising. We have a modified experience for viewers using ad blockers

Wikia is not accessible if you've made further modifications. Remove the custom ad blocker rule(s) and the page will load as expected.