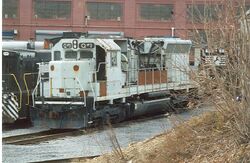 A load test unit is a usually a modified, rebuild, or retired locomotive used to test the electric generator on a diesel locomotive. The term can also apply to electric locomotives, and, essentially, this is part of the Research and Development (R&D) phase in electric-based locomotive construction. Many railroads use this form of locomotive style or concept, and the phrase is often said differently. Such as: loading engine, and/or "dummy".
CSX HLS1; an EMD SD45-2, is an example load test unit as well as WLO2, a GE B36-7. Both which are types of locomotives which have since been retired from their roster. (Aside from 8954, which is also in the process of becoming a load test unit.)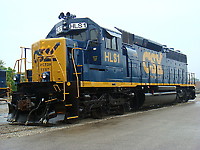 NS #1000; a former Erie-Lackawanna SD45, was rebuilt into a load test unit by Conrail sometime in 1991-1992 (when it was originally known as Conrail Quality #1 or CR Q1). The unit currently serves as a test unit at the Norfolk Southern (NS) Junaita Locomotive Works (or the Altoona Shops) in Altoona, Pennsylvania; where it has resided since it was rebuilt at its respective facility.