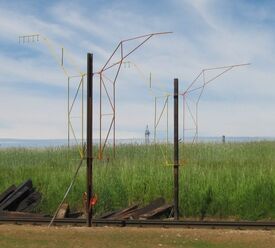 Loading gauge refers to the maximum dimensions that locomotives, multiple units or rolling stock can be on a rail-network. Although this does not affect the track gauge, it can make companies choose different gauges. For instance, generally speaking, the wider the gauge the wider the body of the rail-vehicles are; though this does not always parallel since the 3 ft 6 in (1,067 mm) gauge locomotives on South African Railways are very similar in width to 4 ft 8½ in (1,435 mm) locomotives in Europe.
The most obvious example of loading gauge is commuter trains stopping at stations. Usually, not a thought is given to the easy transition between train and platform, or vice versa. The trains that run on such routes must be built with very close tolerances to the station platforms for there to be hardly a gap. This is especially prevalent when including disabled access. The London Underground is an example of where loading gauge is critical for overhead reasons; so is the New York, New York elevated Metro network, where the track is threaded through between buildings. Many bridges built yesteryear may be a tight fit for modern rail.
Ad blocker interference detected!
Wikia is a free-to-use site that makes money from advertising. We have a modified experience for viewers using ad blockers

Wikia is not accessible if you've made further modifications. Remove the custom ad blocker rule(s) and the page will load as expected.