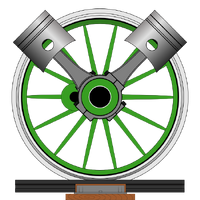 Locomotive Wiki ( often abbreviated to LW ) is a volunteer-based, free encyclopedia. The site is hosted by Wikia, and has been since its launch. Locomotive Wiki is a reference work that began on April 3, 2011, aimed at both dedicated railfans and novices alike.
Our goal is to create a "one-stop-shop" for information regarding locomotives, which are our primary focus so all articles should be closely related to locomotives, their operation, their design and their construction.
Happy editing!
Statistics
Edit
All pages: 14,548 (incl. editable background stuff)
Articles: 887
Files: 3,685
All edits: 42,174
Active users: 17
Ad blocker interference detected!
Wikia is a free-to-use site that makes money from advertising. We have a modified experience for viewers using ad blockers

Wikia is not accessible if you've made further modifications. Remove the custom ad blocker rule(s) and the page will load as expected.