This article or section may need to be rewritten. You can help Locomotive Wiki by improving it!
Please remove this notice if the page has been edited majorly.

Tramlink (originally and sometimes still called Croydon Tramlink) is a tramway system in south London in the United Kingdom which began operation in May 2000. The service is operated by London Tramlink, an arm of Transport for London (TfL).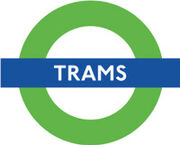 Tramlink serves seven National Rail stations and has one interchange with the London Underground, at Wimbledon station for the District Line, and one with London Overground, at West Croydon for the East London Line; one of the factors leading to its creation was that the area around Croydon has no Underground service. Tramlink runs on a mixture of street track shared with other traffic, dedicated track in public roads, and off-street track consisting of new rights-of-way, former railway lines, and one section of alignment, though not track, shared with a third rail electrified Network Rail line.
Ad blocker interference detected!
Wikia is a free-to-use site that makes money from advertising. We have a modified experience for viewers using ad blockers

Wikia is not accessible if you've made further modifications. Remove the custom ad blocker rule(s) and the page will load as expected.