Louisiana & Arkansas RR No. 99 is a 2-8-0 steam locomotive it was built in 1919 by the Baldwin Locomotive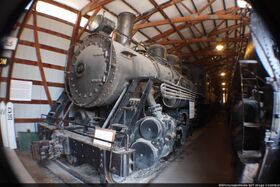 works for the Louisiana and Arkansas railway.
No. 99 hauled freight trains and mixed trains on the railroad's New Orleans-Shreveport–Dallas line until bought by the West Feliciana Railway of San Francisville, LA, in 1946.
The locomotive also sometimes pulled passenger trains for the Louisiana & Arkansas.
Abandoned in a swamp in 1954, it was pulled out and donated to the museum in 1968.
In 1975 Louisiana and Arkansas No. 99 waits in line for refurbishment.
Today the locomotive is on static display at the Illinois Railway Museum in Union, IL.
Ad blocker interference detected!
Wikia is a free-to-use site that makes money from advertising. We have a modified experience for viewers using ad blockers

Wikia is not accessible if you've made further modifications. Remove the custom ad blocker rule(s) and the page will load as expected.