This article or section may need to be rewritten, because text assumes familiarity with MPI models, familiarity with LW's articles, or both. You can help Locomotive Wiki by improving it!
Please remove this notice if the page has been edited majorly.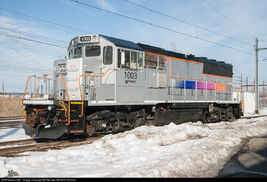 This locomotive is another rebuild offered from MPI. 15+ have been built. The unit has a 2,000 hp MTU-Detroit Diesel 12V4000 Engine. It weighs approximately 277,000 lbs. and is 59' 2" long. It has a maximum speed of 70 mph. It also includes a B-B wheel arrangement and an optional dynamic brake. It includes a continuous tractive effort of 55,000 lbs and a starting tractive effort of 85,000 lbs. NJT has five of these units in its roster, using GP40FH-2's as cores. PHL has 2 of these built 2007-2009. In 2011, PHL contracted with Progress Rail to repower it units with Tier 3 compliant MTU prime movers. 
This article is a stub. You can help Locomotive Wiki by expanding it.
Ad blocker interference detected!
Wikia is a free-to-use site that makes money from advertising. We have a modified experience for viewers using ad blockers

Wikia is not accessible if you've made further modifications. Remove the custom ad blocker rule(s) and the page will load as expected.