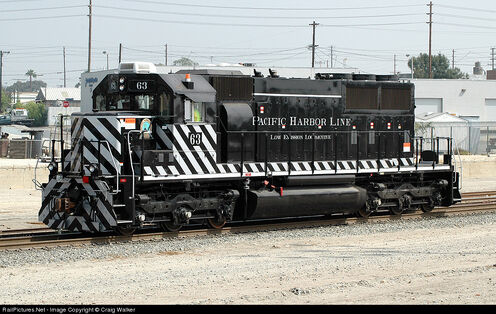 The MP20C-3 is a low emissions locomotive built by Motive Power Industries in 2007-2008 for the Pacific Harbor Line in California. It was built with a 2,000 hp MTU-Detroit Diesel 12V4000 prime mover. It has a continuous tractive effort of 82,000 lbs. and a starting tractive effort of 128,000 lbs. The Railroad supplied MPI with several core units, two SD45's and 12 other 6-axle EMD's. The units when built met EPA Tier 2 standards. In 2012 PHL has Progress Rail re-engine all of the units with CAT prime mover that meet EPA Tier 3 standards. Currently only 14 have been built all for PHL.
Ad blocker interference detected!
Wikia is a free-to-use site that makes money from advertising. We have a modified experience for viewers using ad blockers

Wikia is not accessible if you've made further modifications. Remove the custom ad blocker rule(s) and the page will load as expected.