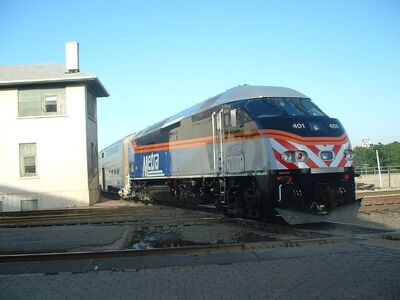 The MP36PH-3S was the first type of locomotive released in MPI's MPXpress commuter locomotive catalog. The first of these locomotives were delivered in 2002, to Metra. These locomotives initially had problems such as prime mover failures and the wieght was to heavy for the units to operate on any UP line. That is why these units are relegated to the Rock Island District and Milwaukee District lines. The 27 Metra units have settled down and are very reliable. The "S" in the name denotes that the units have a  crank shaft-driven static inverter to supply HEP. The unit feature an EMD 645 based prime mover rated at 3,600 hp. The 16-645F3B is EPA Tier 1 compliant. Metra is the only operator of MP36PH-3S's. Metra has equipped their MP36's with a Gyralite. Metra has equipped the majority of their MP36s with Nathan AirChime K5LA horns. Many others are equipped with Nathan AirChime P5 horns. 
In November 2012 Metra announced plans to convert 10+ of their MP36PH-3S locomotives to the MP36PH-3C standard in an effort to reduce noise pollution and boost fuel efficiency. Metra's current MP36PH-3C fleet consists of locomotives numbered 401, 423, 417, 419 and 420. These locomotives have an extended radiator section to cool the new Caterpillar generators.
Sources
http://metrarail.com/content/dam/metra/documents/Proposed%202013%20Program%20and%20Budget%20-%20%20REV%2011-16-12.pdf
http://www.motivepower-wabtec.com/locomotives/commuter/mpxpress.php
Ad blocker interference detected!
Wikia is a free-to-use site that makes money from advertising. We have a modified experience for viewers using ad blockers

Wikia is not accessible if you've made further modifications. Remove the custom ad blocker rule(s) and the page will load as expected.